California Green Ribbon Schools Nominees Announced
March 23rd, 2012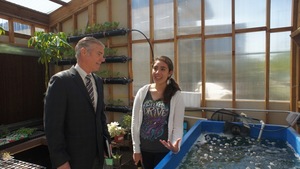 We are excited to spread the news that State Superintendent of Public Instruction Tom Torlakson
announced the 4 nominees to represent California in the inaugural year of the new federal Green Ribbon Schools Award Program at a ceremony yesterday at Lawndale's Environmental Charter High School. Shown in the photo is Superintendent Torlakson with a student guide at ECHS in their solar greenhouse.

The four nominees are:

"Our state has always been a leader in environmental protection, and these four schools are proof positive that California's schools are still leading the way," Torlakson said. "As a science teacher, it is heartening to see how these schools are weaving sound environmental practices into the lessons in their classrooms and the daily life of their campuses. They are schools of the future, in the here and now. I am sure they will more than hold their own in this exciting new national competition."

The U.S. Department of Education (USDE) unveiled the Green Ribbon Schools Award Program in September 2011. The California Department of Education collaborated with several state agencies and interested organizations, including Green Schools Initiative, in developing the Green Ribbon Schools award application. The award criteria are based on three pillars: (1) environmental impact and energy efficiency; (2) healthy school environments; and (3) environmental sustainability and education. Winning schools are exemplary models of effective collaboration among students, teachers, parents, staff, and communities that strive for net zero environmental impacts, healthy food and outdoor activities, environmental literacy of graduates.
Each state was allowed to submit up to four nominees, one of which must be a private school. The California Association of Private School Organizations reviewed the nine private school applications and determined the private school nominee. If a state submits more than one public school, one must be a school with at least 40 percent of their students from disadvantaged backgrounds.

Some 52 California schools applied this year. All applicants underwent a rigorous review before the four finalists were selected:

Environmental Charter High School, which has won numerous environmental awards, is called a "living campus" because 70 varieties of fruits and vegetables are raised at the school. The students, of which nearly 80 percent come from disadvantaged backgrounds, have constructed a rainwater capture system that supplies water to the grounds. Last month, the school unveiled its new solar greenhouse with a rooftop solar energy system and a solar-powered water pump to irrigate plants inside. ECHS has pioneered its "Green Ambassadors" curriculum, a required class which ensures all of its graduates are environmentally literate.
The school has since shared its curricula and provided teacher training to other schools in California.
Students also have internships with local businesses, non-profits, and others where they use their sustainability skills. To graduate, 100% of students are required to apply to and be admitted by a 4-year college or university. According to Alison Suffet, founder and executive director of Environmental Charter Schools, "We set out 12 years ago to create a school 'more different than the rest' (to quote Dr. Seuss). Since signing a long-term lease for an old, former Lawndale elementary school in 2008, ECHS has implemented numerous greening initiatives, transforming a small, urban campus into a green oasis in South L.A.'s concrete desert. The result is one of the most environmentally progressive campuses in the country. Much of the transformation was the result of students identifying the problems and collaborating with staff and community partners to develop solutions."

Longfellow Elementary School also has received many green awards, the latest of which is from the 2011-12 California K-12 School Recycling Challenge. The school has reduced its greenhouse gas emissions by 34 percent with everyday changes in behavior such as turning off all unneeded electrical equipment and lowering the thermostat. Any leftover "cold" food like milk or fruit from the cafeteria is collected daily and donated to the local food bank. More than 100 students are involved with the "Junior Green Team" and are responsible for the successful recycling program. In addition, 100 percent of its landscaping is considered water-efficient or regionally appropriate and the school produces its own compost.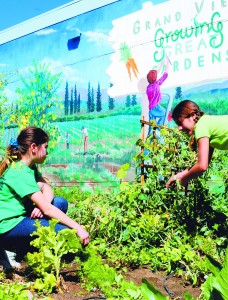 Grand View Elementary School participates in "Grades of Green Schools," and is considered a "dark green" school because of its significant commitment to protect the environment. The 700-student school has reduced its lunch trash from 40 bags to two; and uses only certified green cleaning products. The school urges students to walk or bike to school and has established "Walk to School Wednesdays" with a "Walking School Bus" map that pinpoints locations where students can meet along the route and walk together. Students run successful in-class composting and recycling programs and tend the "Growing Great Garden," shown in the photo.

The Athenian School receives 65 percent of its electrical power from an array of solar panels the school installed on a hillside. About 60 percent of Athenian's waste is diverted from the landfill, and they have a huge food waste composting program. And nearly two million gallons of water have been saved annually with the installation of an all-weather sports field with recycled infill. A 26-day backpacking trip is a graduation requirement for all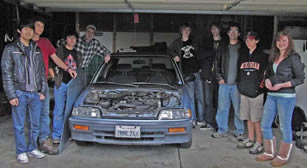 students, and students lead various efforts from composting to building an electric car (shown). These efforts to reduce the school's environmental impacts and teach students about the world around them has led to many awards,
including the US Environmental Protection Agency's Green Power Partner Recognition.
Eric Niles, the Head of Athenian School, is proud of the school's commitment to environmental sustainability and education. Mr. Niles continued: "We are so pleased and honored to have been chosen as one of California's four Green Ribbon Schools nominees. Most importantly, we believe that our students are poised to be the citizens envisioned by Secretary Duncan; that is, environmentally literate citizens who are well prepared for the 21st century economy and who will make the world a healthier place. Thank you for this honor and we hope that we are chosen by the US Department of Education for the national award!"

The applications of the four nominees are being forwarded today to the US Department of Education for consideration in the national awards. The national winners are expected to be announced around Earth Day, April 23, 2012.

"We are extremely proud of our schools," Torlakson said, "and are hopeful that all nominees will be awarded so they will be able to serve as models to emulate around the nation."
Please join Green Schools Initiative in congratulating the excellent nominees California has chosen to showcase the stewardship and innovation that our state's schools foster in our students.
As one of the members of Superintendent Torlakson's Schools of the Future Task Force, Green Schools Initiative is thrilled that the Task Force recommendation to establish a green schools recognition program has been implemented so quickly. We are excited to use the Green Ribbon Schools criteria as a learning tool to help more schools get started on improving health, sustainability, and student achievement!


For more information on the USDE Green Ribbon Schools Program, please visit the CDE Web site at http://www.cde.ca.gov/ls/fa/sf/greenribbonprog.asp.

For Torlakson's Schools of the Future initiative, please visit the CDE Web site at
http://www.cde.ca.gov/ls/fa/sf/documents/sotfreport.pdf.